Top Customer Rated Delta-9/Delta-8
Hemp Derived, Ships to All USA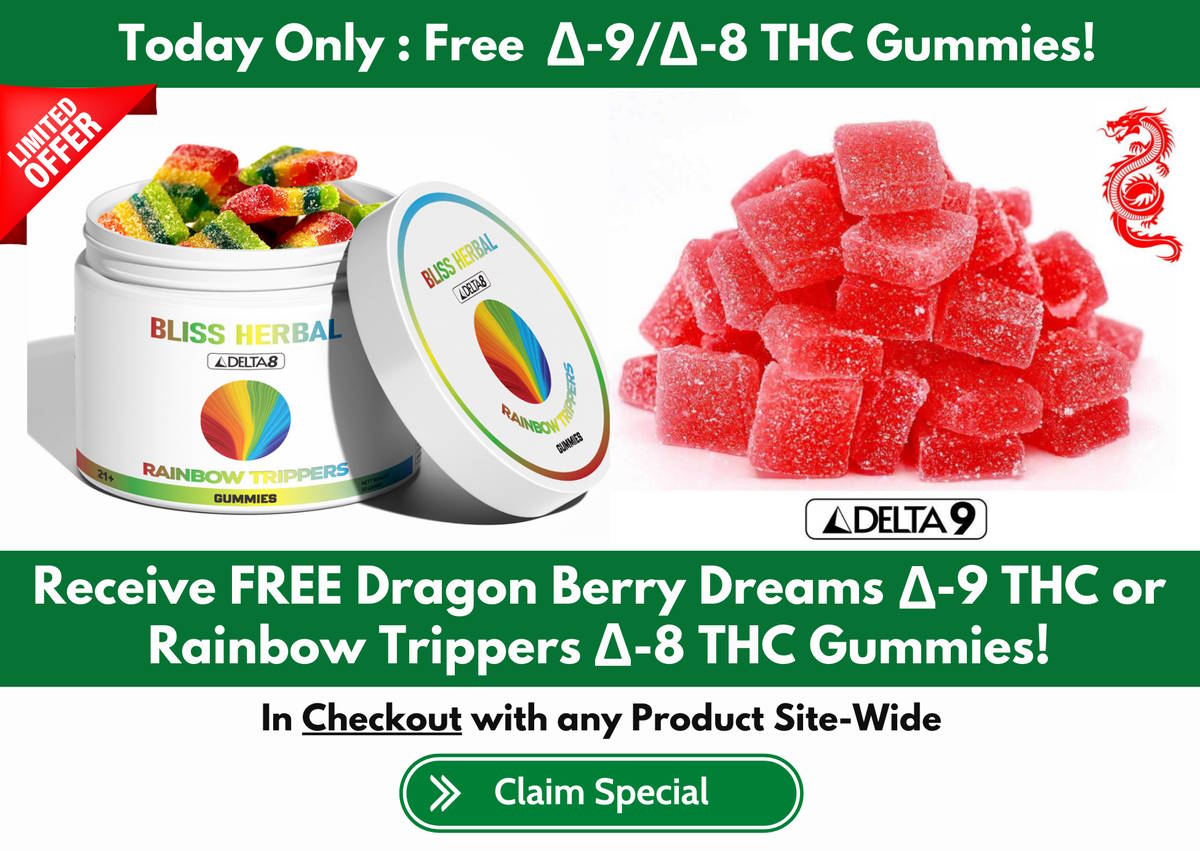 With BlissHerbal, all raw materials are sourced from 100% organic hemp farms and consciously grown and manufactured with sustainably in mind. We thoroughly analyze every batch of Delta-8 for any heavy metals, toxins, or solvents. All products are third party lab tested to validate the superiority of our brand for the purest Delta-8 on the market. Our all-encompassing quality control methods make BlissHerbal the safe and dependable choice for all your hemp flower needs.
Delta-8 Gummies
Trying Delta-8 THC Gummies for First Time? Read this First.
It is important to note that the effects Delta-8 THC are highly personal. Many users find it best to "start low and go slow" when beginning their Delta-8 routine, as many individuals report that lower doses provide them with their desired effects.
How Much Delta 8-THC Should I Take?
We recommend beginning with half of a gummy to one gummy and dosing up from there. It may take a bit longer for the effects to kick in than what you may be accustomed to – which is the case with all edibles versus other consumption methods such as vaping or smoking.
How Long Does it Take for Delta-8 to Kick In?
Full effects can begin as soon as 30 minutes after dosing, but some users find it takes closer to 60-90 minutes to start feeling the effects. Higher doses of Delta-8 THC tend to be significantly more relaxing, so please use caution when using this product for the first time – and avoid driving or operating any machinery until you are familiar with the effects of Delta-8 THC in your body.
IMPORTANT NOTE: Do not use if you are subject to routine drug tests of any kind. Unfortunately, since Delta-8 THC is still a fairly new cannabinoid, many of the current tests on the market cannot differentiate between Delta-8-THC and the more regulated Delta-9 THC
FDA Disclaimer These statements have not been evaluated by the FDA. If you are pregnant, nursing, or taking medications, please consult with your healare provider before using this product. Bliss Herbal shall not be held liable for the medical claims made by customer testimonials. The efficacy of our products and the testimonials provided have not yet been confirmed by FDA research, and the information presented is not meant as a substitute for information from your healare provider. Our products are not intended to diagnose, treat, cure, or prevent any diseases. As with any supplement, please consult with a healthcare professional about potential interactions and complications before using our product.